Since 1993 that I feel the joy and happiness to own and play a "Human Base 7 strings E-Bass". This special instrument allows a very direct and precise performance, in any situation whatsoever, always mingled with a beautiful warmth.
7 Strings has enabled me both to develop my own style and to optimize the expression
of my ideas and feelings.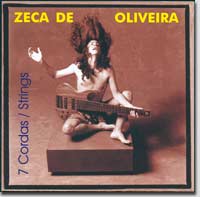 CD-orders: zeca-bass@gmx.de

Discography:

1991 Tobias Langguth "November Samba" LC 8871


1992 Armin Heitz ZST "Fantasia" LC 8871


1994 Rainer Heute "Music we like" LC 6066


1995 Oscar Ferreira "Oscar canta A.C.Jobim" LC 8871


1995 "Collection 1989 - 1995" (brasil Sampler) LC 8871


1996 Armin Heitz ZST "Furioso" LC 7103


1997 Martin Müller "Notícias" LC 8871


1997 Vintage Guitars Vol.23 "The best of Gipsy Swing" HCRCD 89


1997 "Jazz highlights" (acoustic music records) LC 7103


1999 Zeca de Oliveira "7 Cordas / Strings" LC 10156


2000 Rainer Heute and friends "Swinging Christmas Greetings" LC 06458


2000 Armin Heitz ZST "Voyage" LC 07103


2002 Daniel Schay "Speak low" LC 3752