Stefan Hergenröder was born in 1969 with a bass guitar in hand and his feet in the musical world. He picked up his unique style and sound in the streets and on his musical journeys where he simply fused with the instruments of "Human Base".
His groove plucks the pit of the stomach and his solos stupefy his audience into a state of enthusiastic amazement.
Stefan Hergenröder is well known within the European music scene through his CD-productions and concerts with a diverse variety of musicians and bands.

Alanis Hubbard said to the audience and press (HTB) about Stefan:

"...I really have heard a lot of bassplayers, but what this guy does is incredible... melodious and sensitive, always played to the point and so groovy ... He is .......brilliant!!!"


T.M. Stevens raved about Stefan's solo techniques:…"What the hell…!"

A concert critic (FAZ) commented on "The world of percussion" -concert:

"...when Stefan Hergenröder works his insane bass constructions ten fingers beyond the acoustic border of resolution, it truly made the forehead sweat…it made the audience break out in perspiration

The fans got confirmation of his talents at performances in ....

Germany, Italy, Spain, France, Denmark, the Netherlands, Austria, Poland, Switzerland and Africa.


To risks and side effects ask:

Airto Moreira, Randy Brecker, Papa Wemba, B.B. Thompson, Steffen Meder, Sona Diabate', Jürgen Staab, Aicha Kouyate', Charim Mousso, Angela Frontera, Charles Blackledge, Alanis Hubbard, T. M. Stevens, Barry Sangare', Hakim Ludin, Eugen de Ryck, Rosanna&Celia, Kassoum Traore', Jerry Demos, Dominique di Piazza, Alexander Blume, Ramesh Shotham .........

Stefan Hergenröder sees the combination of various art forms within music as an opportunity to apply diverse musical language and create a new and different form of collaboration.
In his eyes, bass is not only a guide instrument, but also as a self contained lead instrument, accomplished in the whole spectrum of musical possibilities.

In his workshops, Stefan Hergenröder primarily focuses his teaching on sensibility, awareness and the appropriate rendition of the presented grooves instead of theory. He illustrates that the bass guitar is not only an accompanying background instrument, but can also be played as a solo instrument. The primary basis of his lessons are modern technique and grooves, easy to understand and taught with patience and enthusiasm.

Stefan Hergenröder creates his sounds with "Human Base" instruments and amplifiers and speakers by "Glockenklang". He also uses the legendary Axon 100 Neural Midi Controller.

".. One could think he and his bass have wings, virtually flying over the most difficult passages of virtuous string instrument music."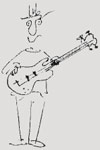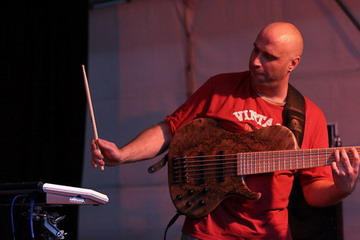 Contakt: stefan.hergenroeder@arcor.de