Decebal Badila was born 1968 in Romania. His first choice was the piano, where he showed his extraordinary talent.

In 1975 he started playing the acoustic base. Just 11 years old, he won the first prize with the acoustic base at the National Music Festival as the best solo-artist. For several years he performed with famous Romanian and gypsy musicians. Since 1984 he has played the electric base as well. Decebal established a unique style and got his own TV-shows where he performed his solo-base programme.

In 1986 leading Jazz magazines voted him the best acoustic and electric base player in Romania. Many concerts and recordings with Jazz musicians and Pop stars followed. Between 1987 and 1990 Decebal studied - parallel to his musical activities - mathematics and physics at the University of Bucarest.

In 1990 he left Romania to attend the German College of Music in Cologne. He obtained his Masters' Degree with honours in 1996. At the final examination concert, Decebal was accompanied by Eugen Cicero. Decebal`s career as an recording artist and live performer has continued in various concerts, TV-shows, studio productions and Jazz-Festivals throughout Europe and Asia with Clark Terry, Bob Mintzer, Larry Coryell, Chaka Khan, Bireli Lagrene, Marc Russo, Brandon Fields, Graham Haynes Shirley Bassey, Koono, Horst Jankowski, Markus Stockhausen, Tony Lakatos, Wolfgang Haffner Peter Weniger and especially Eugen Cicero. He worked together with Eugen Cicero until his sudden death in 1997.

In 1995 Decebal`s successful debut Solo album NOTHING BUT BASE got released. With it`s melodic and imaginative compositions it received international recognition and got good reviews for demonstrating the versatility and beauty of the base as a solo instrument at the highest level. With this album he established himself as one of the leading international artists in his field as well as a brilliant writer. On this album Decebal exclusively plays fine custom made basses by HUMAN BASE, which their unique, brilliant, warm and beautiful sound.

Since 1997 he has worked with the SWR Big Band Stuttgart and performs with international Jazz-Stars throughout Europe.

In 2001 Decebal`s second Solo album
ARCHIBALD'S DANCE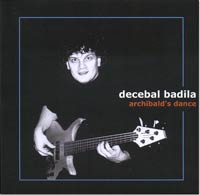 (www.basement-group.com)
got released, which demonstrates his outstanding virtuosity and musicality as well as his innovative and modern compositions.